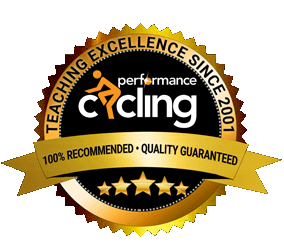 You can be sure you are investing wisely choosing Performance Cycling for your indoor cycling instructor certification, because we have an unmatched 100% recommendation rate since launch in 2001 live and 2009 online!
We teach techniques you can use effectively on all popular studio cycling bikes incuding Spin, Keiser, Reebok, Pulse, Star Trac, Schwinn and more. Plus you get free marketing and promotional support and opportunities, online refreshers, updates and more once certified.
Join us as a Professional Instructor to stand out from the crowd with skilled and structured coaching, great music use and confidently create and adapt classes to meet individual needs within any group.
Qualify live, online or at your venue, with our online certification providing the ultimate in flexible, cost effective indoor cycling training.
Start now worldwide, study at times to suit you, review at your pace as often as you like and complete assessments when ready.
Even more importantly, you are not on your own when training online with us. For the ultimate in quality support, course creator and top presenter Debbie Kneale will answer your course questions personally, all included in the great value fee!
No one gives you more, or better for less - guaranteed!
Grant M - Pro (Level 1 and 2) indoor cycling instructor training live in Chester UK says... As a senior trainer and trainer assessor of some 25 years experience in this field, I look for quality of delivery, depth of knowledge and ability to impart knowledge to the trainee. The course delivered this all and more in abundance .... The course unequivocally gets a well deserved 5 out of 5 stars.
Martin Y - Level 1 indoor cycling instructor training online in Denmark says... I am a road cyclist, I know how to ride and push myself hard I had been to "Spinning" indoor cycling classes before I did this course but found out they I had been doing many things incorrect.
Don't be put off this course because your first language is not English. If your interested in this sport then you can learn and become a qualified instructor using Performance cycling because its more than an online learning web site its real people who want you to become as good as they are.